Introduction
Okra (Abelmoschus esculentus L.), originating in Africa, is widely cultivated in several Asian countries. However, this plant is only recently being cultivated in South Korea (Olawuyi et al., 2020). Fruits (which contain seeds), stems, leaves, and flowers of okra can be consumed either raw or cooked. The green leaves of okra are spirally arranged, long-petioled (up to 50 cm) with soft hair on the upper side, transversally elliptical to orbicular in outline (up to 20 cm long and broad), and have 5-7 palmate lobes (Fig. 1). They are considered as vegetables and can be consumed like spinach or as a salad ingredient. They can also be boiled to make tea, used as a seasoning in dried powder form, or added to soup as a thickener (Bawa and Badrie, 2016; Lamont, 1999; Roy et al., 2014). Similar to the fruits, the okra leaves (OKL) also contain a thick mucilaginous liquid due to the presence of polysaccharides and are suitable for medicinal and industrial applications (Ghori et al., 2017). The okra fruit contains polyphenolic compounds such as p-coumaric acid, ferulic acid, sinapic acid, catechin, and quercetin and its derivatives (Arapitsas, 2008; Huang et al., 2007; Xia et al., 2015). OKL are rich in fiber, vitamins A and C, calcium, potassium, iron, and β-carotene (Gemede et al., 2015).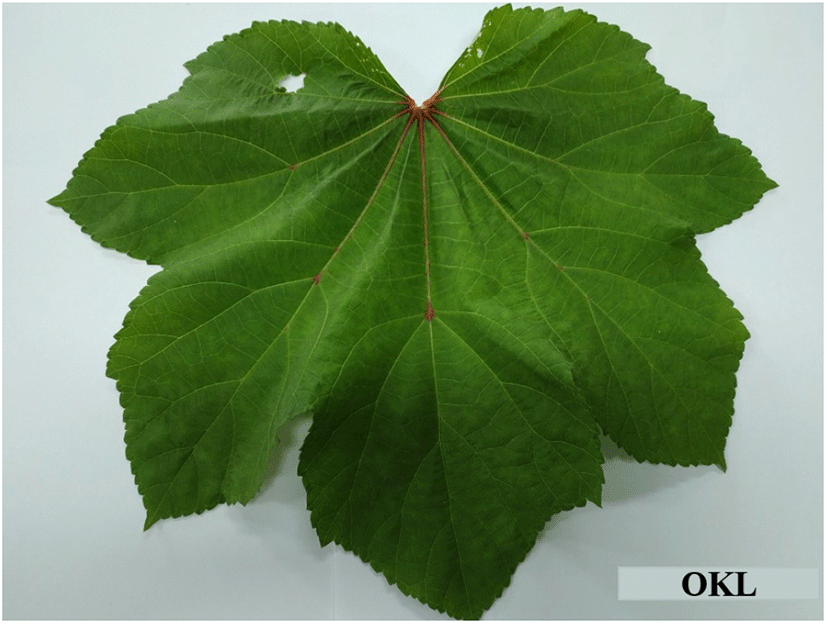 Download Original Figure
Besides, OKL contain polyphenolic compounds and antioxidants (Geng et al., 2015; Liao et al., 2012), although these compounds in the OKL have not yet been identified.
Polyphenols are active components predominant in fruits and vegetables. They are natural antioxidants and have remarkable health benefits (Altemimi et al., 2016; Ojulari et al., 2019). Since polyphenols are bioactive components, generous consumption of vegetables rich in polyphenols can neutralize the effect of free radicals and lower the risk of chronic diseases such as obesity, cancer, and cardiovascular diseases (Ojulari et al., 2020; Olawuyi and Lee, 2019). Polyphenolic compounds are accumulated in various parts of the plant and are often isolated for their biological activity. The extraction efficiency, yield of polyphenols, and their antioxidant potencies and stabilities are typically influenced by the extraction technique and extraction conditions (Chandini et al., 2011; Vuong et al., 2013). Owing to the drawbacks of the conventional extraction methods such as high energy requirement, time and poor efficiency, several novel techniques, including supercritical fluid extraction, pressurized fluid extraction, and microwave- and ultrasound-assisted extraction (UAE) have been employed for the extraction of polyphenols. In particular, UAE has been widely used to extract polyphenolic compounds from plant sources (Albu et al., 2004; Ali et al., 2018; Herrera and De Castro, 2005; Hromadkova et al., 2008) due to the relatively low cost of equipment and the highly efficient and easy mode of operation. UAE uses acoustic cavitation to disrupt plant cell walls, which facilitates the penetration of solvent and the release of compounds into the extraction solution (Altemimi et al., 2016; Vinatoru, 2001). The conditions may vary according to the extraction process (material and technique), and their influence on the extraction of polyphenolics have been extensively reported (Ali et al., 2018; Alu datt et al., 2011; Chandini et al., 2011; Pinelo et al., 2005; Vuong et al., 2013).
Despite such extensive studies, there are no reports on the effect of extraction conditions on the yield of polyphenols from OKL. This study represents the first attempt to investigate the influence of some important parameters such as solvent concentration, solid-to-solvent ratio, temperature, and time on the efficiency of UAE of OKL polyphenolics. The yield of the polyphenolics and the antioxidant activity of the OKL extracts obtained under the optimal ultrasonic extraction conditions were determined in this study. Furthermore, the polyphenolic compounds in the OKL extract were also identified and quantified.